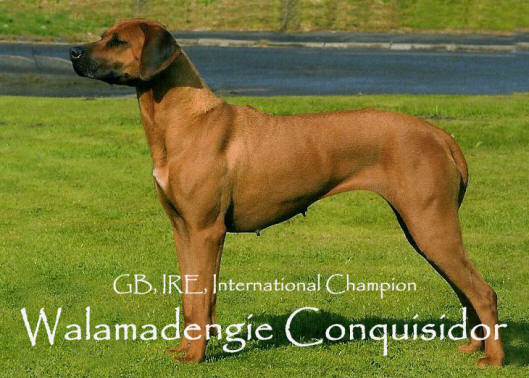 Connie was not only once, twice, but three times a CHAMPION.
Connie's first championship title was won in Great Britain and then she went onto take both her Irish and International championship title within a week of each other in November 2002.
Her wins consisted of 10 challenge certificates, 6 Reserve challenge certificates, 7 Best of Breeds. In Ireland Connie won 7 Green Stars and took most with Best of Breed and in Europe she won 3 CAC's and 4 C.A.C.I.Bís. One of the greatest highlights in the show ring was winning the Champion Class at the World Show in Amsterdam where she competed against champions from nine different countries.
We had taken just one litter from Connie, she was mated to Champion Gunthwaite Action Man and from this litter she has produced 3 champions, one of which is now also a triple champion GB/ Ire/ Int. Ch Walamadengie Awesome, Ire Ch Walamadengie Lady Elegance and also Ire Ch Walamadengie Eternity.
On Friday 25th March, at 10:28am, Connie passed away.
She meant the world to us, and we were her world.
Forever Missed - Never Forgotten
Sweet dreams our beautiful girl.
I Loved You Best

So this is where we part, my friend,
And youíll run on, around the bend.
Gone from sight, but not from mind,
New pleasures there youíll surely find.

I will go on, Iíll find the strength,
Life measures quality, not length.
One long embrace before you leave,
Share one last look, before I grieve.

There are others, that much is true,
But they be they, and they arenít you.
And I, fair, impartial, or so I thought,
Will remember well all that youíve taught.

Your place Iíll hold, you will be missed,
The fur I stroked, the nose I kissed.
And as you journey to your final rest,
Take this with you Ö. I loved you best.